PETER FALK IS one of my favorite actors, especially in the character of genius detective, Lieutenant Columbo.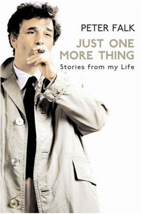 The book Just One More Thing – Stories From My Life is the self biography of Peter Falk. It is wonderfully is written in an easy readable and informal language that is sprinkled with a lot of humor. Many photos from Peters career and life accompany the his funny anecdotes and many people he have met. Peter is a proficient artist and the book also contains prints of some painting and drawings made by Peter himself.
The book journeys from his school time to failed jobs and on to his long and active acting career. Several stories involve his glass eye that affected his in issues like war time servings and problems with getting acting gigs. What the book reflect is that Peter has lived an interesting life and that he has many many stories to tell. At the first pages he reveals that he like storytelling which is also why the book is made from many stories and anecdotes. That formula gives for interesting reading and the book gives good insight in the person, personality and rich life of Peter Falk. The book is definitely highly recommendable for fans of Peter Falk and/or the Columbo character. The Columbo character is covered in a chapter and is a great reading with many funny incidents an behind the scene informations.
A book description can be read at Amazon
Rating: ⭐⭐⭐⭐☆